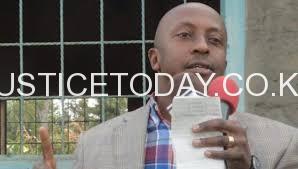 Ex-Chairman of Kihingo Village Waridi Gardens Management Ltd and also former Tetu MP, Ndung'u Gethengi has failed to appear in court for second time to face forgery charges.
When the matter came for mention before Chief Magistrate Martha Mutuku on Tuesday, the court heard that Ndungu could not appear in court because he lost his mother in law and he sought plea to be differed to allow him to mourn.
His lawyers told Mutuku that the last time the defense were in court they addressed the matter of their client being exposed to someone who had Covid-19..
The prosecution opposed the application for deferral but it was not allowed.
They had argued that the last time the matter was mentioned, they were informed that the accused was exposed to someone who had Covid-19 and until now no documents has been supplied.
"When the counsel addressed you virtually in the morning this issue was not addressed and we expected the accused to be in court,"
Magistrate Mutuku differed a plea to December 14, 2020 for plea taking and the accused to produce documents to prove that his mother in law is dead.
Two weeks ago, the MP's plea was differed after his lawyer said that he had been in contact with someone who was Covid-19 positive.
The fraud charges relate to Kihingo estate matters.
He allegedly forged minutes of a board meeting in November 2018 of a company that purported to hold 60 B shares in the Kihingo Village (Waridi Gardens) Management Ltd, the company that controls the upmarket Kihingo estate in Kitisuru, Nairobi.
The minutes sought to appoint Chacha Mabanga as a director of Kihingo Village (Waridi Gardens) Management One Ltd as this would have given control of the 60 B shares to Ndungu so that he could bypass his brother Gitahi who owned equal shares in that same company.
Chacha's fraudulent appointment as a director was uploaded to the Register of Companies database from Ndungu's mobile phone in 2019 so there is a smoking gun.
Ndungu tried to claim control of the estate and own the clubhouse but his case was thrown out by Justice Majanja. He is opposed by ALL 54 other residents including his two brothers and his late mother (who were equal shareholders with him in the original development company).