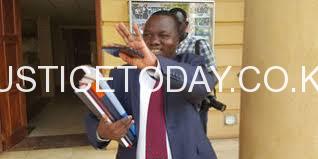 A Nairobi commercial court has suspended the move by KEMSA to fire The Kenya Medical Practitioners, Pharmacists and Dentist's Union(KMPDU)'s union staff pending the hearing and determination of a petition filed in court.
Judge Ocharo Kebira who have issued the orders has at the same time directed KEMSA to respond to that petition in 4 days after having served by it by November 9,2021.
"Pending the hearing and determination of the petition ,a conservatory order is issued restraining the respondents from ,declaring redundant or terminating the services of KMPDU'S staff and enlisting or employing active members of KDF and NYS to take up positions occupied by those members, "read the orders in parts.
The petition has bee filed by lawyer Henry Kurauka representing KMPDU who sought temporary orders restraining KEMSA and the Ministry of Health from declaring them redundant or terminating their services.
The doctors say that KEMSA has breached the provisions of Article 241 (2) (a) which provides that persons enlisted in KDF are responsible for the protection of the sovereignty and territorial integrity of the republic, and KEMSA is not in the state of emergency.
No consultations were done Kurauka reiterated that KMPDU, the Cabinet Secretary, Ministry of Labor and Social Protection were not consulted and did not approve the intended redundancy and mass sacking of KEMSA staff.