There is insufficient material (writings) for creating awareness about Covid-19 among pupils in schools especially those with disabilities, Says an author.
Beatrice Nakholi, an author and a teacher has encouraged children not to untie the government rules on Covid-19.
Beatrice Nakholi who spoke during the International Day of Education celebrated yesterday, said that Covid-19 has taught Kenyans that education learning can also be done out of schools as it has been witnessed in the last 9 months where children were receiving knowledge virtually.
She has however raised concern over the rate at which school-going children are now failing to follow Government guidelines on the Covid-19 pandemic.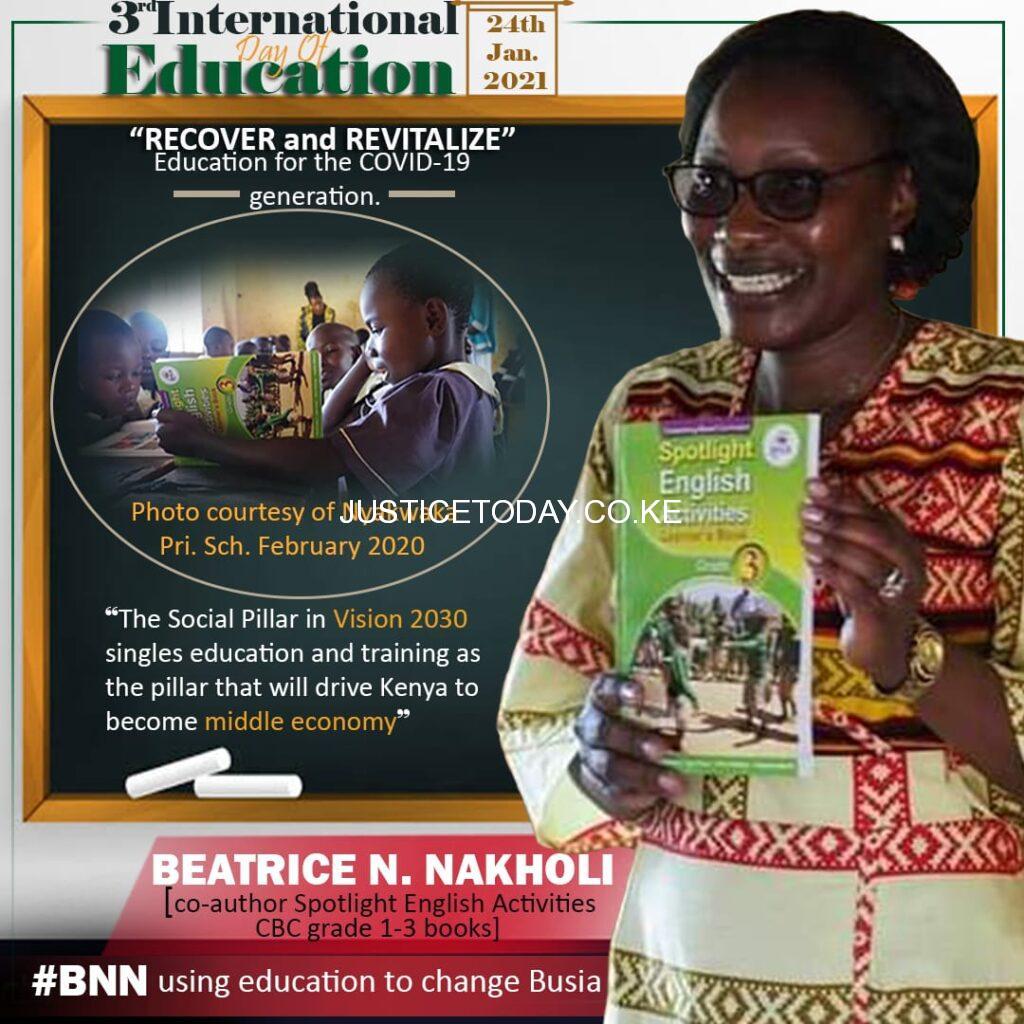 "I urge you to continue following the guidelines because the disease is still with us, don't trust anyone because one could be having the disease," she added
She however noted that schools are lacking enough reading books that are creating awareness on Covid-19 from Grade 1 to 3 noting that some classes are still clouded.
Nakholi who was speaking to a Standard reporter applauded the Government for creating awareness about Covid-19 through various media and also ensuring that schools are adhering to those guidelines but she said more need to be done.
I urge the students not to trust just anyone but should know that anyone can get covid-19. Despite all this, some classrooms are still clouded.
"Even before covid-19 schools have experienced many challenges and there is no enough equipment."
"Covid-19 means one should take his or her responsibilities to protect themselves" she added
She added that for three weeks now, Kids are no longer tightening the measures maybe it's because they have not seen anyone getting sick.
"All schools should also ensure that they have an aspect of psychological programs to curb the increased cases of violence against teachers," she added.
She added that children need to be counseled because they could be afraid of exams which may lead to violence.
The author added that the day was an international event but Kenyan kids were not aware of it.
"Schools are doing their best and everyone is trying what they can some are doing it very well but others are not doing very well to carb the disease," she added.
The challenge that came with covid is that everything was shut down and Government did a lot of effort but the challenge was that all people were unprepared.
"Covid-19 is your responsibility, please ensure you follow the rules and what the teachers are telling you," she added.