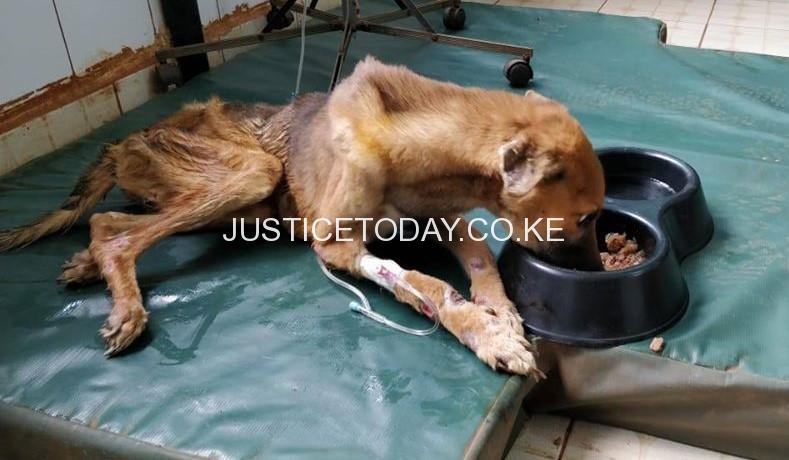 Animal lovers have praised workers at the Kenya Society for the Protection & Care of Animals (KSPCA) for rescuing a dog at the verge of death in Karen and giving it a second chance to live.
The dog named William was picked near Hillcrest School in Karen when it was emaciated and in horrible condition.
Lonely, deserted and hungry William was at the verge of death some weeks ago but now he is jovial and vibrant.
"He was suffering from tick, fever and was bedridden for some time. As a result, he developed multiple bed sores. He is at the KSPCA shelter undergoing treatment and looking much better now" the society stated.
A photo of William when he was almost giving up is moving but weeks after recovery the image depicts resilience, joy and hope.
A smiling William moved the animal lovers who expressed joy and applauded the society for the kind actions.
Cristina Baekkelund Kristensen; This little pupper is such a lovely soul who just want cuddles non-stop. He really deserves a second chance in a loving home.
Joyce Kitavi KE; May he find a home. He's so cute. The day I am able to have a pet, I will choose to adopt. Let us adopt and not buy. KSPCA you are doing a great job.
Bill Ruthi; Keep going, dog. KSPCA, your work is amazing.
Gertruda Chemirmir; Looks happy.. thank you for a job well done.
Salma Baker N Counsellor; wow..fantastic amazing work KSPCA…well done to the team.
Anna Chro; What a major transformation. Your team did an amazing job!
The 37-years-old KSPCA is the only animal welfare charity in Kenya protecting animals from neglect and abuse.
At the moment the society taking care of 142 dogs, 93 cats, eight donkeys and one horse.