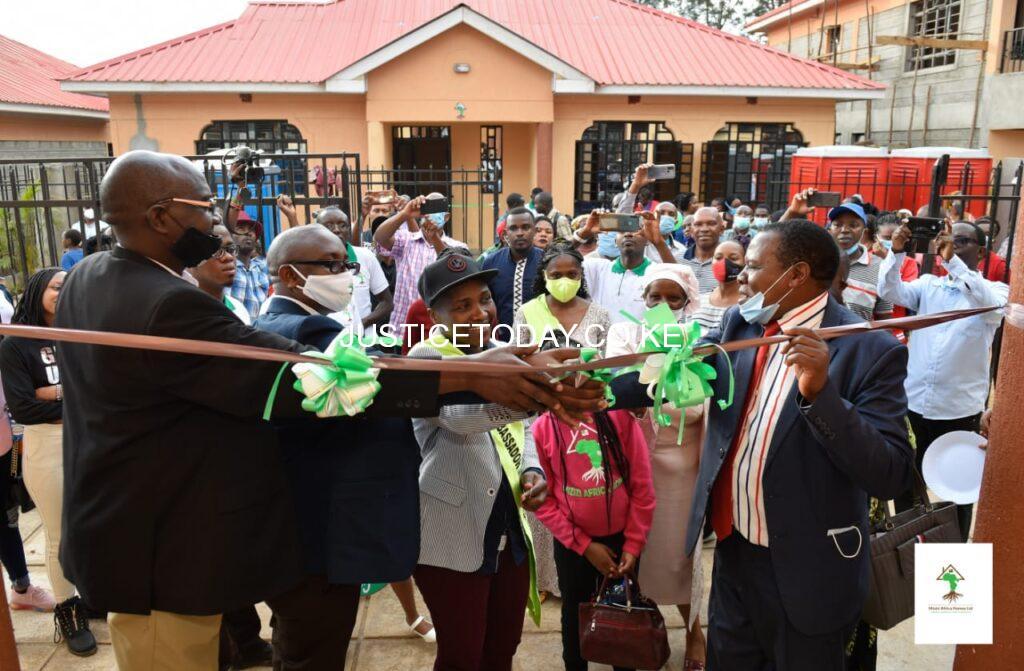 In a years time soon after Mizizi Africa Homes Limited Launched Penguin Estate,It has now been handled over to its owners.
The Company is not only launching new projects but also ensuring timely delivery to its potential customers.
It ensures the clients are not only sastified but are also entertained as it has welcomed Local Musician Betty Ba-yo to be its Ambassador and Sport-lady Zarika.
It handed-over Penguin Estate to prospective owners defying COVID-19 disruptions to deliver the project within set timelines.
The Company Chief Executive Officer (CEO) George Mburu who spoke during the launch event on September 19,2020 said it is through Prayers and hard work that the project came to conclusion.
"I urge all other developers consider their clients and deliver off-plan Houses as agreed to reduce cases of increased fraud cases,"said Mburu.
At the same time added that focus on division of labor in a period of strict adherence to social distancing helped the company to accelerate pace of delivery.
The home owners were very much excited as they could not hide their Joy during the event,some of them could walk in out of the houses holding keys and smiling.
Penguin Estate is a 16-unit real estate development that comprises luxurious 3-bedroom bungalows selling at Sh. 3.2 Million each for cash buyers and targeted at middle income buyers.
Three-quarters of this project's units are owned by single mothers to highlight their rising interest in buying homes.
The project located along Kenyatta road, just 30 minutes' drive from Nairobi CBD is the most competitively priced development in Kiambu County with similar projects in the area going for Sh. 5 Million and above per unit.
Last year, the developer committed to redefine off-plan homes provision by staying true to its commitments with prospective homeowners including involvement of customers through the entire construction process.
Through these efforts, the company aimed at increasing homeownership through affordable and quality units, eliminating the risk of missed timelines in project completion and building customer confidence in the off-plan provision market segment.  
MIZIZI is now on yet another project,pigeon Esate which also located at Kenyatta Road exit 14 off Thika Superhighway
The project touches tarmac road and is being sold at Sh 3.95M or Sh 4.2 M with Sh 1.5 M deposit and balance to be paid in 10 months Installments.