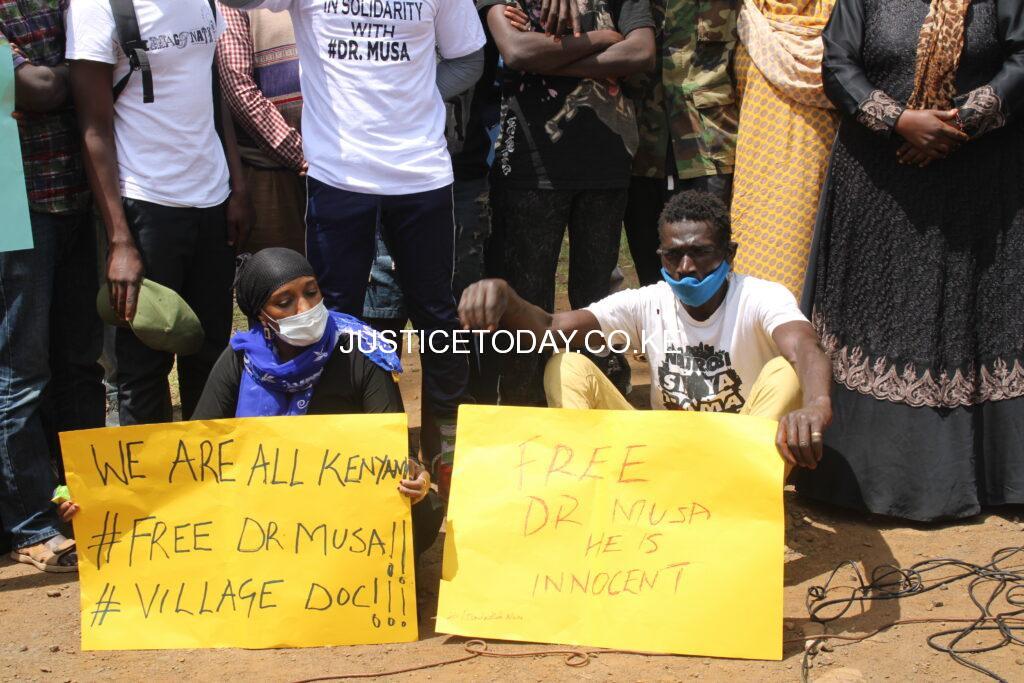 Members of Nubian Community have today gathered outside Milimani Law Courts contesting the arrest of Doctor Musa Mohammed Ramadhan who is a suspect in child trafficking .
Through their chairman Shafi Hussein, the group says the arrest of Doctor Musa and the CEO is unwarranted and travesty of justice.
"We as minority community, we should not be discriminated," he added.
They added that the law should protect its citizen against unwarranted arrest because one is innocent until proven guilty.
"One can and should be arrested based on evidence that meets the legal threshold .A media expose cannot be used as evidence in a court of law, so it cannot form a basis for arrest," said Hussein.
Hussein is among four suspects that have been arraigned over a child trafficking syndicate at Mama Lucy Kibaki Hospital in Nairobi following an expose that revealed the underworld of baby-selling activities within Kenya's capital.
The others are Beatrice Njambi Njoroge, Selina Awour Adundo and Juliana Mbete Kimwele who have since appeared in court to answer to the charges of child trafficking crime.
A charge sheet indicates that the four are facing child trafficking charges contrary to Counter-Trafficking of Persons Act of 2010.
They are said to have colluded on diverse dates between May 11, 2020 and November 17, 2020 at the Mama Lucy Hospital jointly with others not before the court to offer a 6-month-old baby for adoption with the aim of trafficking him.
The prosecution sought to have the suspects detained for 2 days pending a conclusion of investigation into the matter.
Mama Lucy Kibaki Hospital CEO Dr Emma Mutio, Dr.Regina Musembi and social worker Makallah Fred Leparan were presented before a Milimani court over the allegations of child trafficking.
An exposé by the BBC Eye had shone the spotlight on the thriving underworld of child trafficking in Kenya's capital.
The damning expose showed how children were hawked off from unsuspecting parents and children homes to selfish individuals, leaving behind desolate parents and unresolved crimes.
Nubians Community says that Mohammed is a good doctor being mistreated due to his belonging to a Minority Community, without a political clout or a Godfather.
"The story by BBC did not in any way link the suspect's social worker to the Doctor nor to the CEO,"SAID Nubians.
They added that Dr. Musa is already not in the said office while the CEO is relatively new in the institution.