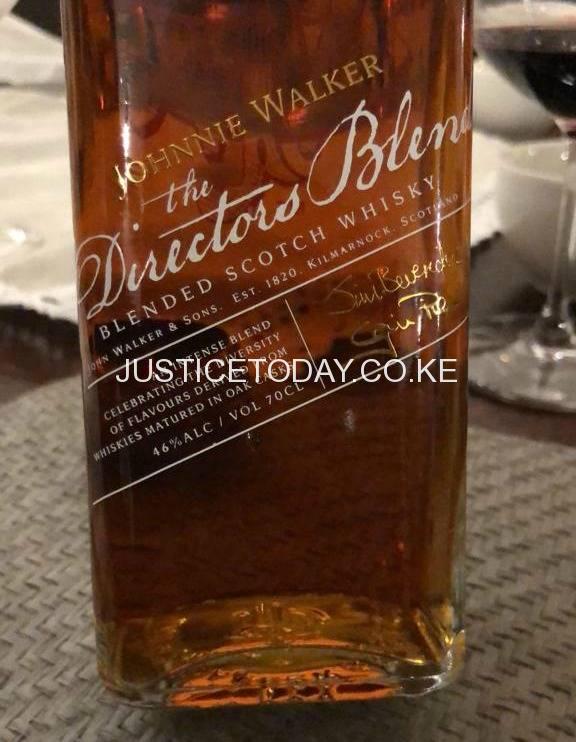 Late Safaricom CEO Bob Collymore had reserved a gift of pricey whiskey for President Uhuru Kenyatta but it was taken by Collymore's friends two days before he succumbed to Myeloid Leukemia on July 1, 2019.
The gift was a Johnnie Walker Directors Blend, a 750Ml drink that retails for over Sh450, 000.
When Bob felt the sickness had taken toll on him he invited his close friends; the "Boys Club" to bid them goodbye.
The club composed of late Collymore, businessman Ally Khan Satchu, Radio Africa Group CEO Patrick Quarcoo, Peter Kenneth, Jeff, Scangroup CEO Bharat Thakrar, British High Commissioner Nic Hailey and Kenya Commercial Bank CEO Joshua Oigara.
That day a sickly Bob took a world class whiskey reserved for a special friend and shared amongst his friends.
Now the Boys Club as they promised Uhuru during Bob's requiem mass have replaced the whiskey and are waiting for the President to pick it.
According to Jeff, the brand is one of a kind. Less than 150 bottles of this brand were produced and distributed to whisky Connoisseurs around the world.
During the mass Kenneth disclosed how they shared the drink reserved for Uhuru. This prompted the President to react, telling them to be ready for a fine for taking what was not theirs.
"My one disappointment is that I should have gone back to collect something that had been reserved for a special friend. So Peter Kenneth, Oigara and crew you have to pay. That did not belong to you" Uhuru said.
According to Jeff, they hurriedly planned to look for it. They sourced it from Ireland and shipped packed in a box to avoid breakage.
"We decided that before the President sends someone to ask for that fine we need to get that bottle here as soon as we can. The whiskey is now sitting at Bharat Thakrar house awaiting to ask for it" Jeff disclosed recently.