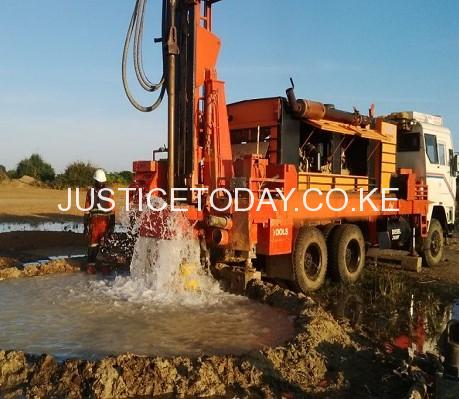 Water supply in Nairobi is unreliably but one of the most affected area is the leafy suburbs of Karen.
Though it is the serene home of prominent personalities, the rich there have been forced to drill boreholes to keep a constant supply of the vital commodity.
However, this does not come cheap there as they are forced to sink deeper to access the water table.
Karen and Lang'ata District Association official Duncan Munyua says Karen residents gave up on Nairobi Water Company after supply was stopped.
"Since late 1980s water supply in Karen has been unreliable. Some residents disconnected county water pipes. We have been relying on boreholes even those are drying up" Munyua reveals.
They now invest in harvesting rainfall in addition to spending millions in sinking boreholes.
According to residents, ten years ago they were drilling 100 to 200 metres to get water but most of these boreholes have dried up and now they are going past 300 metres to get it.
Jubilee Party Secretary General, a resident spent Sh3 million to dig a borehole for his Dari Restaurant in Karen.
Drilling about 400 metres to get the water table that is receding in Karen areas.
"Tuju dig deep into his pockets to have the borehole done. His restaurant was facing challenges that were affecting business there. He had to do something. We largely rely on boreholes and rainwater since water from Nairobi Water Company is unreliable. Some of us have disconnected the county water pipes" a resident revealed.
Many have invested in water tanks with capacity of over 100, 000 litres to keep them going until the next rain
"I have three tanks that store 95, 000 litres of water. An underground one and two others on top. At the moment reserve for drinking water is about 25, 000 and this will keep me going for weeks before rains start" a resident of Bogani area says.