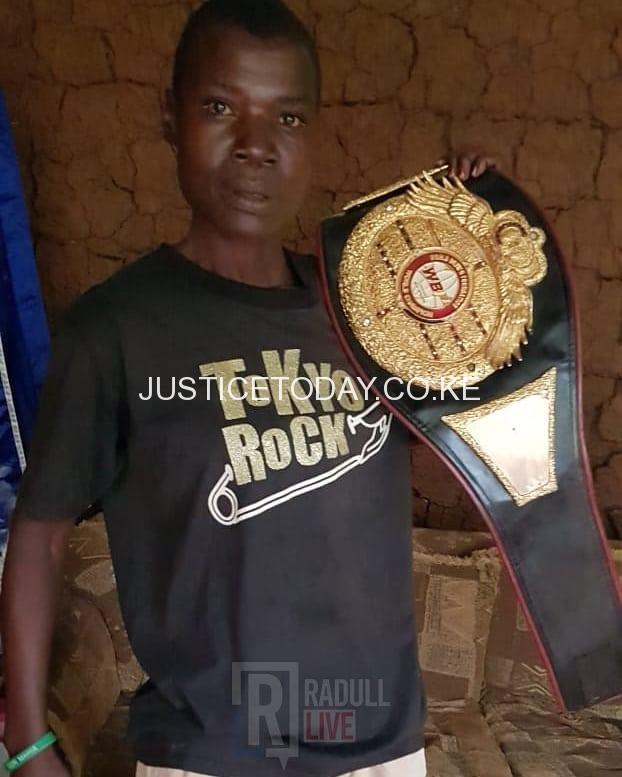 Hip hop musician Octopizzo has slammed the Jubilee administration for leaving the former boxing champion Conjestina Achieng to languish in poverty while Githeri Man is being celebrating for doing nothing great to the country.
Octopizzo reacted after it was revealed how the former boxer now living at her village in Yala, Siaya County is struggling with health and poverty.
She was visited by sports journalist Carol Radull who revealed that Conjestina has lost weight, always in deep thoughts and aggressive when visited by strangers.
Octopizzo however did not take her situation lightly and wondered why on earth a man who appeared in at a voting station with Sh10 githeri was awarded and recognized hugely while a heroine who put the country on global map was disregarded.
Between 2002 and 2010 Conjestina had participated in 27 fights of which she won 17, eight by knockouts, had four draws and lost six fights and only one in knockout.
But since she developed health complications from 2010 she was forgotten and only few friends and kins helped her.
But during the 2017 elections day, a voter from Kayole was photographed eating githeri as he queued to voteand in no time he was a darling of the media, some Kenyans and even government.
Martin Kamotho who was nicknamed Githeri Man started trending and corporates and individuals gave him big gifts.
He even received Head of State Commendation (HSC) and was invited to State House where he was given Sh100, 000 token.
Octopizzo wondering why Conjestina was sidelined even by home leaders like Raila Odinga.
"At times I feel this country doesn't deserve our talents, Conjestina is and will always be a legend. How Githeri Man got all that VIP treatment for standing in line with Nyonyo, yet our siz Conje after representing this country worldwide can't even afford good medical care" he stated.
Adding; "#Awuoro May I get blessed to the level that I could be able to assist her in the smallest ways possible. Raila Odinga Do you ever see this ? #MoreLifeConje we shall Overcome".