Kyee Mbatha an environmentalist commonly known as captain green has started has launched an Organization dubbed "My Green Institution Community" with the aim of planting One Million trees in the next 5 years.
Together with other stakeholders, Mbatha launched the initiative at St. Augustine Secondary school Mlolongo Town.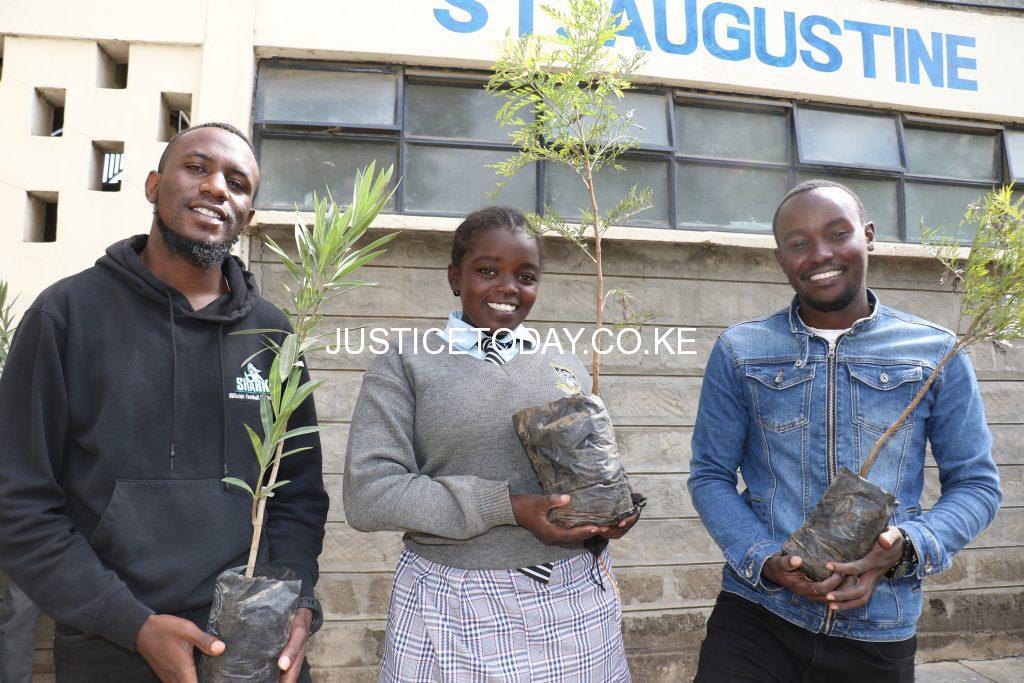 The the organization targets to grow 1 Million Trees by year 2027 in Learning, Social and Religious institutions within
Machakos County to fight Climate Change.
Prior to this, Mbatha has been leading a series of tree planting
exercises in education and government institutions in a drive aimed at increasing forest cover in the country.
"For the last 8 years after my graduation, I have been using 30% of my total income from my small business to purchase and donate trees in several institutions," he said.
Mbatha said while planting trees in these institutions, he
used that opportunity to create environmental awareness on climate change and why growing trees is one of the most effective ways to deal with current climate crisis.

"So far I have donated over 50,000 seedlings and I believe that we shall hit our 1 million target now that I have engaged my friends who we share the same vision" he added.

The CBO Treasurer Faith Koitee a graduate in soil science said that she felt it was necessary to join hands with Captain Green since the effects of change were evident all over the country.
She said many counties had been experiencing low rains that had led to death of both livestock and Wild animals due to lack of food.
Kyee a 33 year old youth holds a degree in Bsc. Ecotourism Management under the faculty of Environment and Resources Development from Egerton university. He is an Ecopreneur dealing with
solar powered CCTV cameras and solar flood lights. He urged the Kenyan youths to venture into businesses that do not harm the Planet.
"At times I disagree with friends and family members as they feel that i give too much attention to the
environment. It baffles me when I see a grown up person pay ksh 10,000 bill at a pub. Such an amount
can be used to plant at least 100 trees! Plants are carbon sinks. We need many of them to absorb the
large amounts of CO2 released daily globally" said Kyee
Mr Joshua Mutuku an Engineering Student said that they had mapped various institutions within
Machakos County where the organization intends to grow trees. He said that they will lobby different
leaders and organizations for support to make sure that their CBO hits the set target