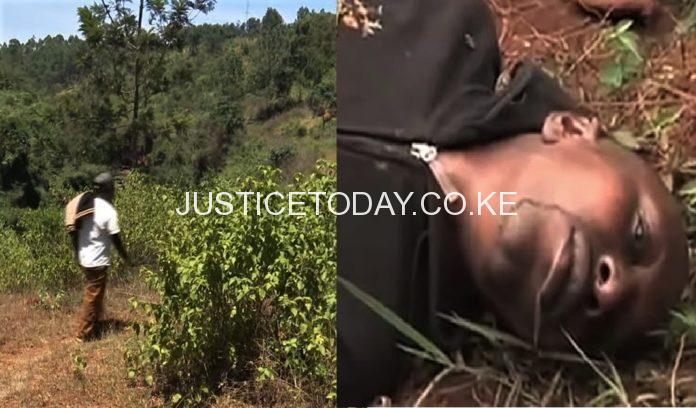 Drunkards in Makwa village of Gatundu North have devised ways of making and consuming lethal chang'aa deep in the forest.
There are caves at the banks of Chania river where chang'aa is brewed, some distributed around Kiambu and other areas while the rest is taken deep there with some drunkards spending weeks there.
According to alarmed residents, their kins addicted to the lethal liquor spend a month or two in the caves imbibing the liquor.
Old and young Kiambu men are getting wasted there and according to residents, nearly every home in Makwa has buried a relative killed by chang'aa.
A local vernacular Tv station aired the story that showed a lost generation and a village unsure of its future if the consumption of the illicit liquors ais not thwarted.
Francis Kamau, a resident said some drunkards have stayed for months down there prompting relatives to make police report of them as missing.
And when they emerge, they are rugged, emaciated, sickly and some full of jiggers.
The brewers reportedly work in cahoots with some authorities making it harder to kill the illegal business.
"Brewers are making good money and thus able to bribe some authorities and those unrelenting to finish it are targeted" a resident revealed.
Late last year Peter Kanja, a Nyumba Kumi leader who was fighting it was killed by gangsters hired by the brewers.
Bernard Chege, a rehabilitated alcoholic lamented how he spent his life and fortune in the valley drinking and wasting away.
"When I didn't have money I would work for the brewers to make it and the pay would be a glass or two of the chang'aa. We slept in the bushes and caves" he bemoaned.
Area farmers lose their domestic animals to drunkards who steal and sell to sustain their drinking habits.